Lori Jo Whitehaus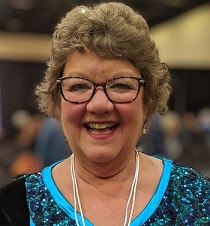 Lori Jo has been a member of Sweet Adelines International since 1978, singing first with the Greater Harrisburg Chorus and then beginning her partnership with Vocal Harmonix (formerly Red Rose City Chorus) in 1994. Her commitment, talent, and enthusiasm for women's barbershop harmony have been instrumental in ensuring that Vocal Harmonix is sought after as high-quality entertainment in the Lancaster area and to the competition stage in our regional, five-state area.
Lori Jo is a Master Director, Regional Faculty member, and has served on many committees and boards both at the regional and international levels of our organization. She continues to coach choruses and quartets in Region 19 and has sung Bass with several quartets.

Vocal Harmonix is fortunate indeed to have this multi-talented woman to direct and educate us in the craft of barbershop harmony.
Our Assistant Directors
Irene Hershey
Page Hesser
Ashley Hazen